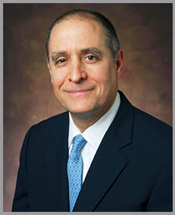 Dr. DiMaio received his medical degree from the University of Miami in 1987 and completed his internal medicine, general surgery and thoracic surgery residencies at Duke University Medical Center.  While at Duke, Dr. DiMaio completed a surgical research fellowship focused on gene therapy, immunology, and transplantation.  He joined the faculty at UTSW in 1998. Dr. DiMaio currently oversees clinical research projects focused on cardiac and thoracic research and has an active laboratory studying the effects of protein and pharmacologic agents involved with myocardial and neurological recovery.  His clinical interests include transplantation, cardiac surgery, ventricular aneurysm repair, aortic stenting, minimally invasive cardiac and thoracic surgery, and the usage of Holmium-YAG laser therapy for tracheal and thoracic obstructive processes.
Board Certifications
American Board of Surgery
American Board of Thoracic Surgery
American College of Surgeons (FACS)
Fellow of the American Heart Association (FAHA)
VATS lobectomy certified
Robotic Masters (Intuitive Surgical)
Laboratory of Cancer Biology and Genetics, Nation Cancer Institute (LCBG NCI) certified researcher
Professional Associations / Affiliations
Fellow, American College of Surgeons
American Society of Transplant Surgeons
American Medical Association
Texas Medical Association
Society of Thoracic Surgeons
Hospital Affiliations
Children's – Cardiothoracic Surgery
Children's Medical Center of Dallas
St. Paul Professional Building II
The Harold C. Simmons Comprehensive Cancer Center
Clinical Research
Clinical Interests
Cardiac Regeneration
Collaborator of the LCBCC Consortium- University of Texas SPORE in Lung Cancer
Reynolds Associate with Reynolds Center – New Measures to reduce death and disability from ASHD
Basic Science Research:
Collaboration with Ildiko Bock-Marquette (TB4, new growth and repair)
Biomedical Engineering Department
Spectral MD
Immunotec
Telectronics Pty Ltd.
Clinical Trials
The Cancer and Leukemia Group B (CALGB) with the National Institute of Health (NIH)
NIH research, Surgical Treatment for Ischemic Heart Failure (STITCH) trials
VATS lobectomy, robotic surgery
TEVAR, Medtronic research trial
Veterans Administration, VA Randomized ON/Off Bypass (ROOBY) Trials
Phrenic Nerve Pacer Research, Synapse for ALS and Avery System
Laboratory of Cancer Biology and Genetics (LCBG) and National Cancer Institute (NCI) certified researcher
Research students from:
UT Southwestern Osteopathic School
University of Illinois
Doris Duke Program
Education
Undergraduate Education
Bachelors of Science, University of Florida
Medical Education
Doctor of Medicine, University of Miami
Residency
Duke University Medical Center Thoracic Surgery
Fellowship
Duke University Medical Center Surgery Research
Honors and Awards
Reynolds Scholar
Scholarship to the University of Miami
Florida Blue Key, Honorary Leadership Society
Outstanding Graduating Senior Award, University of Florida
Alpha Omega Alpha, Duke University